Bedrooms
All four bedrooms lead onto the balcony with wonderful views of Avlaki bay and the Albanian mountains. The large bedrooms have en-suite facilities, air conditioning, vaulted ceilings and spacious fitted wardrobes. 
During the summer, air conditioning is a necessity and all bedrooms are fitted with A/C units.  We do request guests to use it considerately due to its environmental impact and ensure units are turned off when the room is not in use.  Bed linen and towels will be changed every three – four days.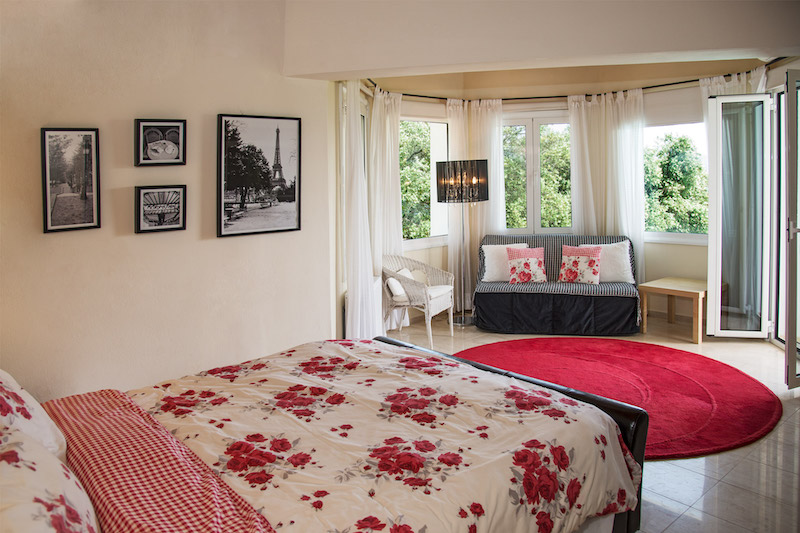 Bedroom 1
Large double bed, sofa bed suitable for young children
En-suite: wash basin, toilet, shower, bath
Bedroom 2
Two single beds
En-suite: wash basin, toilet, shower
Bedroom 3
Large double bed
En-suite: wash basin, toilet, shower
Private balcony seating area shared between bedrooms 3&4.
Bedroom 4
Two single beds
En-suite: wash basin, toilet
Private balcony seating area shared between bedrooms 3&4.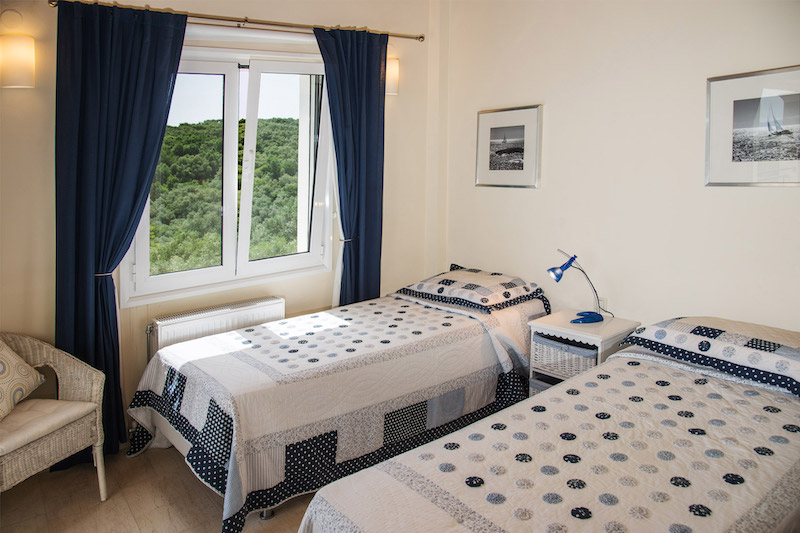 Living areas
The villa has a large open plan kitchen and living room.  Facilities include; electric oven, ceramic hob, dishwasher, fridge/freezer, drinks fridge, microwave, toaster, kettle, filter coffee maker.  The kitchen is very well equipped and there is plenty of good quality and, matching tableware. 
The contemporary furnished indoor living area is arranged is around an open fire place.  There is a separate dining room, for cooler spring and autumn evenings, seating 6-8 people.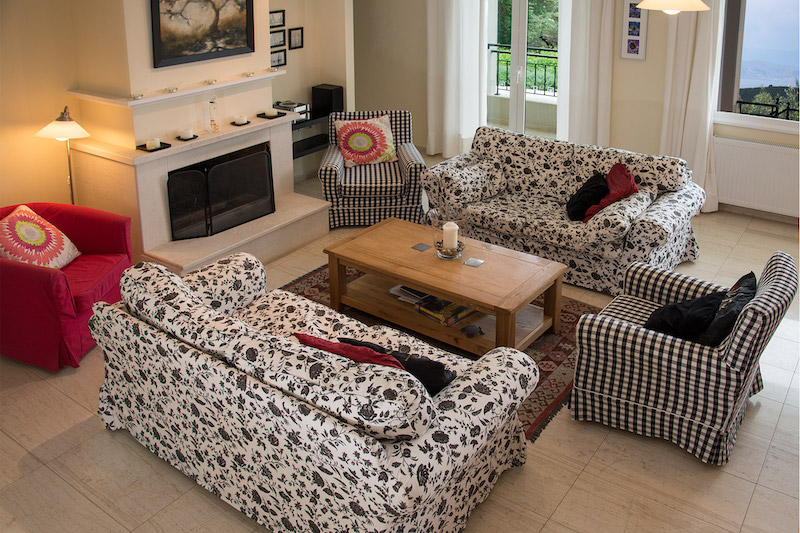 French windows lead from the kitchen onto the covered veranda.  The comfortable outdoor seating area is the go to spot for relaxing and discussing the important issues of the day like "where are we eating tonight"?  This setting is a favourite with all our guests, for breakfast, pre-dinner drinks and late-night reminiscing.
Further along the veranda, with views over the gardens, sea and hillside, the dining table is the perfect setting for a freshly prepared lunch or BBQ supper.
Swimming pool
Gated steps from the veranda lead down to the swimming pool and terrace.  The swimming pool is 10m x 5m in size and 0.5m – 1.9m in depth.  The pool terrace, surrounded by lavender, rosemary and star jasmine, provides sun beds, chairs and a parasol for shade.  A private pergola for two is set slightly apart from the pool, in a tranquil location beneath the olive trees.
Outside peak season, the swimming pool may be heated via an air source heat pump – hence the water temperature is dependent upon the air temperature.  The effect is to increase the water temperature by around 7 degrees more that it would otherwise be.  Please note the pool will not be as warm as hotel or leisure centre heated pools.
Gardens
Villa Aurora is set in acre of grounds in which the ancient olive trees are undoubtedly the stars.  The flower beds and containers are well stocked with indigenous plants including agapanthus, bougainvillea, jasmine, lavender, mimosa, nerium, oleander, plumbago, polygala and rosemary providing seasonal colour and fragrance.  We would be most grateful if you would water any pots that have dried out.
Although there are many great tavernas to choose from, the villa is well equipped to provide a fresh barbecue supper. Beware, Corfu charcoal burns at a very high temperature – no chance of undercooked food.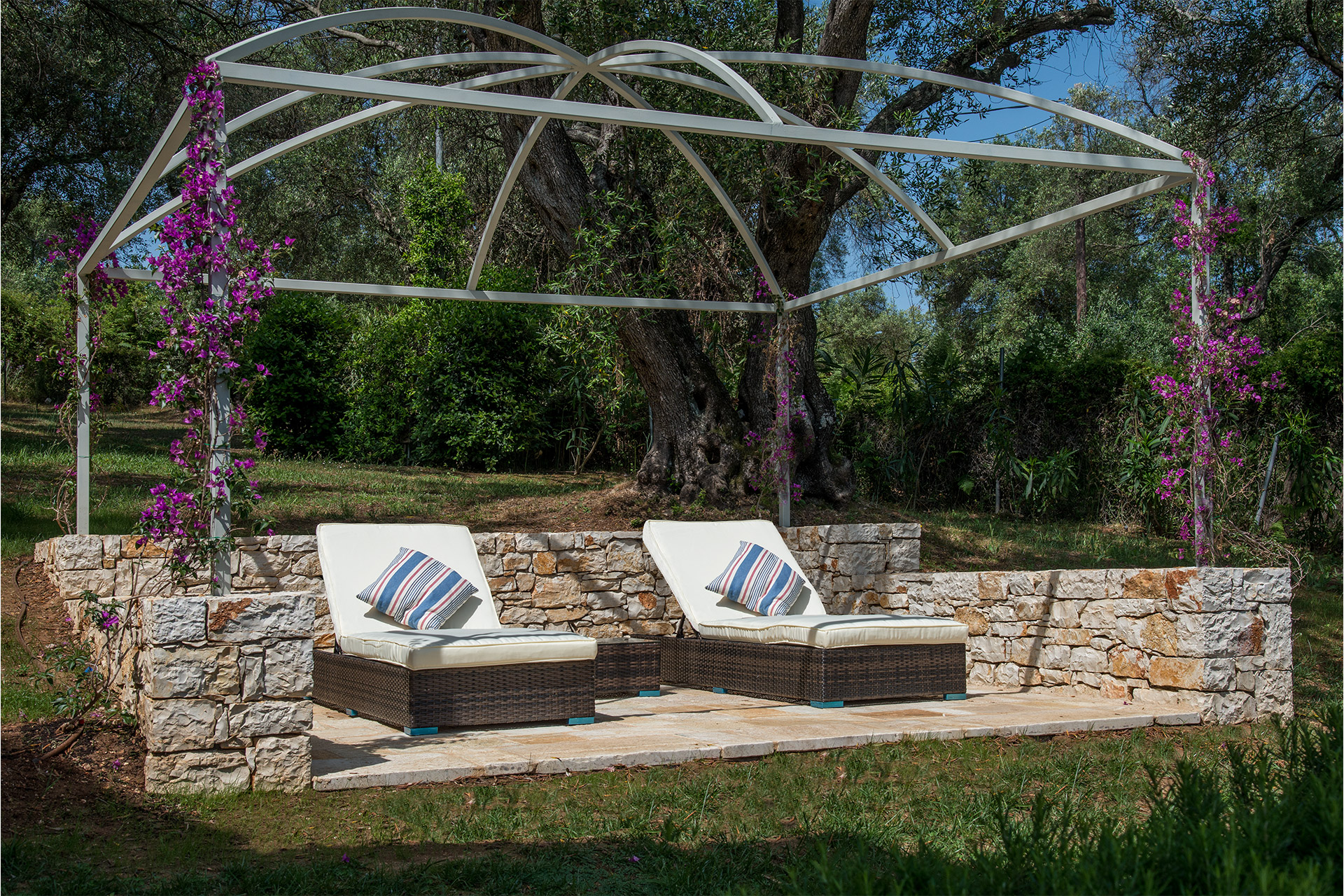 Entertainment
A free Wi-Fi network is available.  It is suitable for e-mail, internet browsing and music streaming.  It is not suitable for gaming or video streaming.
There is a satellite TV which offers only limited international channels but does include BBC World, Bloomberg News and some children's channels.  The DVD player provides a selection of Disney and Harry Potter's films and "freebie Sunday supplements".
The Hi-Fi supports music streaming via bluetooth.  There is a selection of CDs, mostly 70's and 80's reflecting my own music taste, so you may wish to make alternative arrangements.
There are plenty of books from our own collection which has also been added to over the years by previous guests.  Please feel free to exchange.  Family games, quizzes and playing cards – all extremely popular on returning from the tavernas.
For the competitively challenged there is a full-size table tennis table in the garden and the pool is the scene for many impromptu water sports .